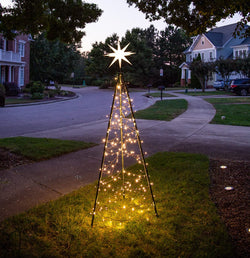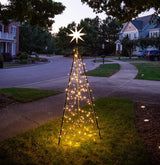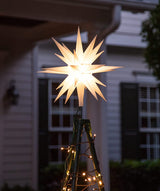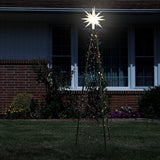 Outdoor Light-Up Christmas Tree
Get into the holiday spirit with Elf Logic's Outdoor Christmas Tree with Moravian Star Tree Topper! This tree is easy to set-up with zip ties that hold lights onto the tree figure. With bright LED lights, this glowing Christmas tree and Moravian Star will shine beautifully into the night. Plus, this outdoor tree is weather resistant, so you can use it for years to come. Feel the Christmas cheer with this unique decoration!
Bright LED Lights - Glowing Christmas tree and Moravian Star shine beautifully into the night. Match your white Christmas lights with these perfect LED outdoor Christmas lights.

Weather Resistant - water and weather resistant. Comes with stakes to stick the tree into the ground. Suitable for the outdoors.

Adds Christmas Cheer - This Outdoor Christmas decoration is designed to spread holiday cheer and tradition
Inspiration
In 1966, Grandpa Bunca cleverly crafted a homemade rotating Christmas Tree stand for his delighted family; even after many holiday seasons, it remains in the family, a special part of their Christmas tradition. Now, we want it to be a special part of yours. With a few modernized upgrades, Grandpa Bunca's inspiration lives on.
Our Belief
Elf Logic has the same belief as Grandpa Bunca had in 1966: Christmas decorations should add joy and happiness to the season without any additional stress. All of our products possess elements that convey that exact belief. From a modernized version of Grandpa Bunca's rotating Christmas Tree stand to a beatiful, foldable Moravian Star,  we are here to make your Christmas clever and fun, like only an elf could.