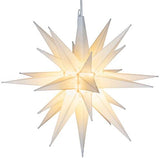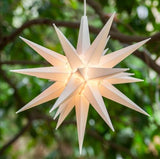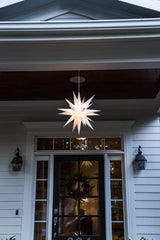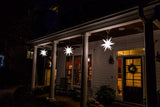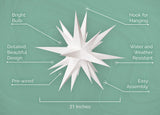 21" Large Moravian Star - Simple Press and Clip Design
Designed to spread holiday cheer and tradition, our Elf Logic 21" Moravian Star Light is the perfect holiday decoration! This bright white Moravian Star is perfect as a Christmas tree topper or displayed as a beacon of light hanging outdoors. The fast press and clip design makes for easy assembly and a sure pick for the holiday season.
Warmly Glowing Moravian Star Light - Warm glowing 15w bulb shines beautifully into the night. The 21" size is perfect as a porch light. Match your white Christmas lights with this white star.

Improved Model - Improved water/weather resistant material and warmer brighter light bulb!

Great Porch Light - Our Moravian star comes with a hook for a porch light.

Adds Christmas Cheer - This White Moravian Star light, classic shape design spreads holiday cheer & tradition, meant to symbolize the star of Bethlehem.

Assembly Required - White Moravian Star light is prewired and does not come assembled.  Simple directions with excellent pictures.