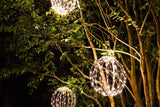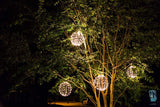 16" LED Light Balls (3 Pack)
Our Elf Logic 16" Outdoor LED Light Ball will add ambience to any setting, indoor and outdoor - outside on your porch, for weddings, dinner parties, and Christmas decorations! Warm white mini LED lights provide a prettier, safer, longer-lasting, and more energy efficient alternative to incandescent bulbs. Our Elf Logic large metal hanging light ball folds flat for easy storage and assembly! The tough metal frame and waterproof LED bulbs are built to withstand wear and tear. Use this decorative ball tree light as a hanging light ball, outdoor light ball, or try hanging multiple light balls in a tree this holiday season to create the perfect of holiday ball Christmas lights! These do not come pre-assembled. Our Elf Logic Outdoor Hanging Light Ball comes with a detailed instruction manual for easy set up.
Unique Design & Easy Assembly: Premium Light Ball with fold-flat metal frame & LED mini lights wrapped to a 16" metal frame

Connect Together: Each light ball allows you to connect up to 6 light balls on one cord to the outlet

Durable & Long Lasting: Outdoor light ball with anti-rust metal ball frames and waterproof LED bulbs to withstand wear and tear

Made For Outdoor Use: Light ball is perfect to use outdoors as a hanging light ball for Christmas Decorations, wedding decor, patio decorations and more

Warm White Led Lights : Warm white LED lights results in a softer elegant hue. If one LED light goes out the rest stay lit.