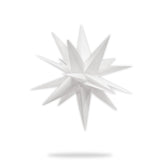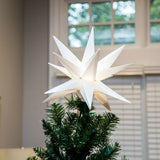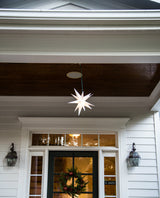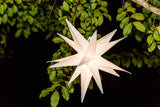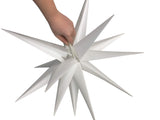 12" Folding Moravian Star Light
Designed to spread holiday cheer and tradition, our Elf Logic 12" Moravian Star Light is the perfect holiday decoration! This foldable Moravian Star Light features an easy "Press-N-Clip" assembly - it will be your favorite decoration to put up this holiday season. Upgrade to our timer options to experience the convenience of home automation! The 6 /18 hour timer is designed to cycle on for 6-hours and then power off for 18-hours.  With no repeated plugging / unplugging needed, you can get back to enjoying the holiday season! 
Features 
12" Foldable Moravian Star 
Folds flat for easy storage 
Indoor / Outdoor Use
G40 LED Bulb 
48 In. Power Cord
Tree Mount
Inspiration
In 1966, Grandpa Bunca cleverly crafted a homemade rotating Christmas Tree stand for his delighted family; even after many holiday seasons, it remains in the family, a special part of their Christmas tradition. Now, we want it to be a special part of yours. With a few modernized upgrades, Grandpa Bunca's inspiration lives on.
Our Belief
Elf Logic has the same belief as Grandpa Bunca had in 1966: Christmas decorations should add joy and happiness to the season without any additional stress. All of our products possess elements that convey that exact belief. From a modernized version of Grandpa Bunca's rotating Christmas Tree stand to a beatiful, foldable Moravian Star,  we are here to make your Christmas clever and fun, like only an elf could.