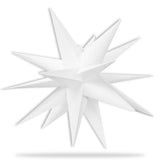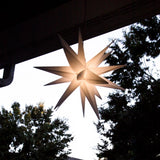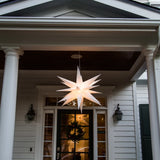 30" Folding Moravian Star Light
Designed to spread holiday cheer and tradition, our Elf Logic 30" Moravian Star Light is the perfect holiday decoration! This foldable Moravian Star Light features an easy "Press-N-Clip" assembly - it will be your favorite decoration to put up this holiday season. Upgrade to our timer options to experience the convenience of home automation! The 6 /18-hour timer is designed to cycle on for 6-hours and then power off for 18-hours.  With no repeated plugging / unplugging needed, you can get back to enjoying the holiday season! 

Features 
30" Moravian Star 
48 In. Cord 
G50 LED Bulb
Folds compact for easy storage  
Indoor / Outdoor Use 
6 / 18 Hour Electric Timer Options
Experience the convenience of home automation 
Upgrade to our timer option, and experience the convenience of home automation! Our 6/18 hour timer is designed to cycle on for 6 hours and turn off for 18 hours, so you can get back to enjoying the holiday season! 
| | | | |
| --- | --- | --- | --- |
|  Timer Options | Cycle On Period  | Cycle Off Period  | Additional Information  |
| Electric Timer  | 6 Hours On  | 18 Hours Off  | |
| Battery Timer  | 6 Hours On  | 18 Hours Off  | Requires (3 ) AAA Batteries  |
Inspiration
In 1966, Grandpa Bunca cleverly crafted a homemade rotating Christmas Tree stand for his delighted family; even after many holiday seasons, it remains in the family, a special part of their Christmas tradition. Now, we want it to be a special part of yours. With a few modernized upgrades, Grandpa Bunca's inspiration lives on.
Our Belief
Elf Logic has the same belief as Grandpa Bunca had in 1966: Christmas decorations should add joy and happiness to the season without any additional stress. All of our products possess elements that convey that exact belief. From a modernized version of Grandpa Bunca's rotating Christmas Tree stand to a beatiful, foldable Moravian Star,  we are here to make your Christmas clever and fun, like only an elf could.
Customer Reviews
01/04/2020
Ayn W.

United States
Good for inside or under cover
It was easy to put together, just wasn't as ready for outside as I thought it would be. Will be easy to pack away though.
Gorgeous!
I have had a Moravian Star decoration for nearly 30 years but it has finally decided to refuse to stay assembled. It also stayed assembled (the locking pegs were hard to remove and re-insert and juggling the individual star points was an interesting exercise in futility) so the star stayed assembled and took up a large storage box. I purchased this star to replace the one I no longer need, well ahead of the holiday season to make sure it was a good fit. This star allows you to remove the LED light (nice feature), fold two clips and return it to its box for the 11 months of the year it is stored. Setting it up takes just a few seconds - install the light, unfold (much like a fan), push the clips to lock the star open and gently squeeze the points that do not fully open. It is absolutely gorgeous! I have a pretty average size front porch, (for reference I do not have a "grande" foyer) and bought this to hang at the entryway of my porch. I was a little nervous that the size would be too large, but it ended up being absolutely gorgeous! The star is very well designed. It is almost seamless and does not have that "made in china" look. The exterior of the star is a bright white plastic and looks very nice when lit up at night. Overall, I would definitely recommend this product to any family or friends!
Loving the size
Better than expected.